Recent Acquisition: Lucy Bakewell Audubon Brooch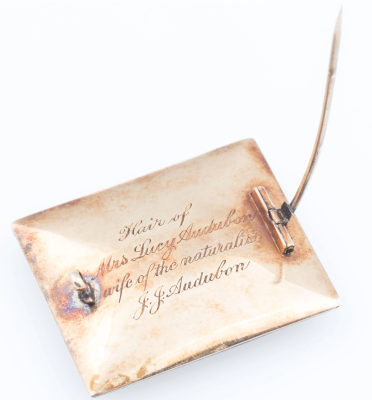 The Beinecke Library has acquired  a 19th century gold mourning brooch including a lock of Lucy Audubon's hair. The brooch is inscribed on the back: "Hair of Mrs. Lucy Audubon wife of the naturalist J.J. Audubon."
Lucy Bakewell Audubon (1787-1874) met John James Audubon (1785-1851) when she was 16 years old and Audubon, then 19, moved to her Pennsylvania community from his home in France in 1803; they were married in 1808. During the early years of their marriage, Audubon began traveling frequently to collect and draw bird specimens, a project that would become his important decades-in-the-making work, The Birds of America.
Throughout their marriage, Lucy Audubon supported her husband's ambitious project financially by working as a teacher and tutor; she also raised the couple's two sons during Audubon's many trips into the field. Eventually she helped to manage subscriptions and coordinate the work of engravers and others involved in the publication of the The Birds of America.
Jewelry and other keepsakes crafted with human hair—referred to as "hairwork"—were not uncommon in the 19th century. Locks of hair fashioned into objects like this brooch served as mementos of loved ones separated by distance or, as in this case, tokens of loss and mourning. Lucy Audubon herself wore a mourning brooch that is thought to include locks of hair from her husband and two sons, all of whom she outlived. That brooch, now in the collection of the Audubon Museum at the John James Audubon State Park in Henderson, Kentucky (where John James and Lucy lived when first married and where Lucy spent her final days), is described by  Collection curator Heidi Taylor-Caudill as "a token of Lucy's love and affection for her family that she could wear close to her heart, and in the years after their separation by death, could treasure as a lasting reminder of her husband and sons."
In a 2020 blog post about hairwork in the Audubon Museum Collection, Taylor-Caudill also describes a letter from Lucy Audubon to her granddaughter Delia Talman Audubon. Written shortly before Delia's wedding  and just months before her own death, Lucy refers to a lock of her own hair enclosed with the letter. Reflecting on this letter, Taylor-Caudill  writes "In her words, 'think sometimes of me if you look at the old hair,' Lucy implies that this gift of a literal piece of herself was meant to be a lasting reminder of her love and friendship."
Though her letter is in the Audubon Museum Collection, the final disposition of the lock of hair Lucy sent to her granddaughter is unknown; likewise, the exact provenance of the mourning brooch acquired by the Beinecke Library is not clearly documented. Possible connections between this recently acquired object and materials in the Audubon Museum Collection may provide fruitful research opportunities.
MORE Information about Lucy Audubon in the Beinecke Library Collections