What's in A Name?: Reading and Resources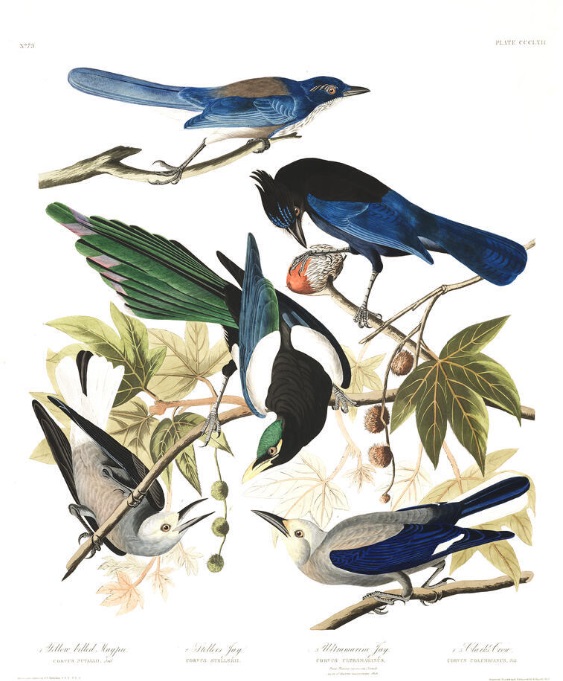 The Beinecke Library's 2021-2022 Birds of America installation considers the once-common practice of naming flora, fauna, and landscape features for the person who "discovered" them and the contemporary call to replace so-called eponymous bird names with descriptive alternatives.
TBD exhibition dates will be updated here: Audubon at Beinecke: Exhibition.
***
Readings // Additional Resources // Social Media
***
Readings
Nathalie Alonso, "Inside the Movement to Abolish Colonialist Bird Names," in Outside, February 12, 2021
Gustave Axelson, "Toward Inclusivity in Birding: Forum Discusses Renaming Eponymous Birds," Cornell Lab All About Birds, April 23, 2021
Bird Names for Birds: Historical Biographies of People for Whom Birds are Named
Darryl Fears, "The Racist Legacy Many Birds Carry", in the Washington Post, June 3, 2021
Gabriel Foley and Jordan Rutter,  "The Stench of Colonialism Mars These Bird Names. They Must Be Changed," in the Washington Post, August 4, 2020
Matt Mendenhall, "A Time of Racial Justice Drives New Push to Rename Birds", in Birdwatching, August 3, 2020
Additional Resources
Bird Names for Birds, Wikipedia
Bring Birds Back Podcast: Who is Birding For?
Social Media
Instagram: #BirdNamesForBirds
Twitter: #BirdNamesForBirds
***
Image: Birds of America, Plate 362: Yellow-billed Magpie, Steller's Jay, Ultramarine Jay, Clark's Crow 
***
The Beinecke Library's exhibition galleries are currently closed; updates about the reopening of the Library's exhibition galleries will be posted on the Library's website: https://beinecke.library.yale.edu/.